Crabtree RV Center Priority RV Network
Crabtree RV Center Center is a proud member of the Priority RV Network...The Priority RV Network is the number 1 selling RV Dealer Group in the world. With 101 locations throughout the United States, RVers have made the Priority RV Network their first choice in RVing.
We sell the finest new and pre-owned RVs and our Priority RV Parts Stores provide the best in parts and accessories – always on sale and competitively priced! And our qualified service technicians can install any part or accessory in a timely, cost effective way.
You can count on Priority RV dealer's emergency service program. When you purchase your RV at a Priority RV Network dealer and you are traveling more than 100 miles from home and you have a major maintenance problem prohibiting you from staying overnight or traveling, you will be put to the front of the line for service. It's like taking your own technicians to the campground with you!

Our many branded consumer programs such as RV Service, Road Care and Insurance will provide you peace of mind when traveling.
It's one of the big reasons we sell more RVs each year than anyone.
And, if you travel to Canada, we have you covered. If you need emergency service, Priority has a service alliance with RV Care of Canada, a group of 60 outstanding dealerships in 10 provinces. So you will have access to 161+ servicing dealers in North America, the world's largest group.
Make plans today to visit your local Priority RV dealer. The road to the campground goes through a Priority RV Network dealership. That's why hundreds of thousands of RVers tell you: superior value, nationwide service.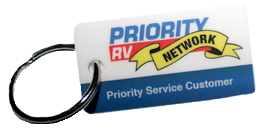 Financial Stability
Exceptional Customer Satisfaction
High Dealership Sales Volumes
Superior Parts and Service Facilities
Outstanding Reputation with Manufacturers, Suppliers and Customers
Quality of Personnel
Commitment to Priority RV Network Priority Service Program
Adherence to the Strictest Priority RV Network Code of Ethics
Learn more about the Priority RV Network and the many products & services it offers through Crabtree RV Center, come see us today in Alma, Arkansas or go to www.priorityrvnetwork.com
CONTACT US